Safeguarding Children
At St James' CE Academy, we take very seriously our responsibility to safeguard both children and adults. The safety and welfare of our children is paramount throughout the school and our commitment to this is exemplified in the policies, procedures and processes that are followed.
The need for rigorous guidelines and procedures is important to ensure that this is done with understanding and clarity. Safeguarding and promoting the welfare of children is everyone's responsibility. Everyone who comes into contact with children and their families has a role to play in safeguarding children.
Safeguarding & Child Protection Co-ordinator – Miss J Strickland

Deputy Safeguarding & Child Protection Co-ordinator – Mrs N Hunter & Mrs L Dobson

What to do if you have a concern about a child:

During School Hours:

Contact the school and speak to either Miss Strickland, Mrs Hunter or Mrs Dobson
Contact the Access and Assessment team for Hull on 01482 448879

Out of school hours and during school holidays:

If your concern is urgent and there is an immediate risk of harm, then contact the police via 999
If your concern is less urgent but you are worried about the welfare of the child then contact Children's Social Care, Access and assessment team on 01482 448879 (Weekdays 8.30AM-5PM) Immediate Help Team on 01482 300304 (After 5PM and weekends)
Sexual Violence, Harassment and Abuse in Educational Settings

The school is committed to promoting the safety and wellbeing of all children. We achieve this through putting in place robust systems and procedures to manage any concerns reported. We respond immediately to any concerns raised and ensure that these are dealt with appropriately, sensitively and in a timely manner.

Children can report concerns by talking to their class teacher or any member of staff.

Parents and carers can contact our Safeguarding Team if they have a concern: please ask to speak to Miss Strickland or Mrs Dobson via the school office on 01482 825091.

The NSPCC have set up a dedicated, confidential, helpline available to current or past victims of sexual violence or harassment, as well as parents, carers or professions with concerns.

The dedicated NSPCC helpline number is: 0800 136 663
Useful documents:
Operation Encompass
Operation Encompass is a Police and Education early intervention safeguarding partnership which supports children and young people exposed to domestic abuse.
Operation Encompass is the reporting to schools before the start of the next  school day when a child or young person has been involved or exposed to a domestic abuse incident the previous evening.
The information is given in strict confidence to a school's Key Adult to enable support to be given dependent on the needs and wishes of the child.
Operation Encompass is a Trauma Informed and Trauma Sensitive charity. We acknowledge and understand the impact of Domestic Abuse as an Adverse Childhood Experience.
Operation Encompass mitigates against the damaged caused by exposure to Domestic Abuse and other ACE's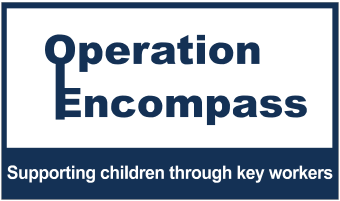 Paper copies are available upon request from the school office.
I particularly enjoy RE as I like learning more about God and Jesus, there is more and more to learn every day.
My favourite subject is maths because it is fun as well as challenging!
I love the exciting trips that we go on, they make me think about the future and my future career.
I learn something new every day, then I like to go home and do more research, particularly about out topic.
The books we read in school have inspired me to read more at home; I really enjoy reading every day.
St James is like one big family, we look after each other and I feel safe here.